Are you seeking to claim damages or Initiate Legal Action?
Send a Legal Notice to anyone anywhere in India through a professional lawyer. Starting at just Rs. 1500/-
What is a Legal Notice?
A legal notice is a formal written intimation that you intend to take legal action against the party to which it is being served if certain remedial actions are not taken on their part. For example, Mr. Ram has bought goods from Flipkart and he is aggrieved by their services despite contacting their support he is unable to solve the issue. In this case, Mr. Ram can send a notice to Flipkart stating therein that if the issue is not solved within 7 days of receiving the notice, legal actions will be initiated at the appropriate court/forum.
How to Send Legal Notice?
Usually, parties have to engage or hire a lawyer for sending a legal notice. This may be a time-consuming and expensive process. But…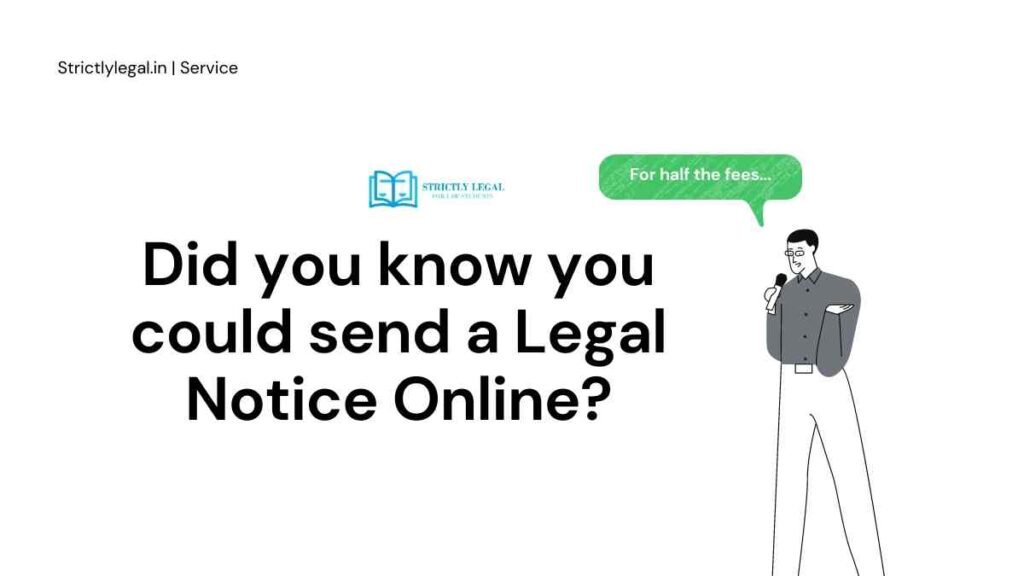 Did you know you could send a Legal Notice Online?
Our professionally trained drafting personnel will read and understand your issue and draft a Legal Notice in less than 48 Hours and send you the notice draft for confirmation. Thereafter, taking into consideration the revision/changes (if required), our team will either send you the final draft so that you can personally send it or serve it by post on the intended party and supply you with the evidence (India Post Docket No/Tracking ID)
All these from the comfort of your home. Send a legal notice online, Today!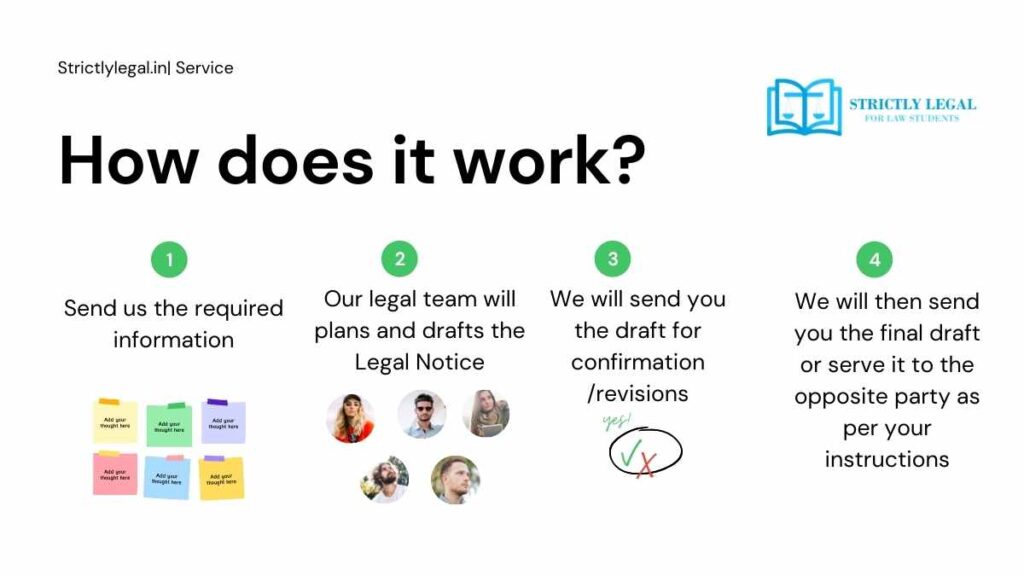 How much does it cost to send a legal notice?
If you hire a lawyer offline, the legal notice charges can go as high as Rs. 2000 to Rs. 5000 but you can engage with us i.e Strictlylegal services and send the same notice for as low as Rs. 1000/-
We will help you Draft & Send the Notice.
Send Legal Notice or Reply to a Notice!
✓ Drafting of Notice or Reply
✓ Unlimited revisions as per request
✓ Free Legal Assistance
✓ Live Chat/Email Support
✓ Lawyer incall availability
Rs. 1500
Legal Notice Online Pricing
Services:
Demand Notice/Debt recovery Notice
Legal notice to tenant or landlord
legal notice for divorce
Notice to employer or ex-employer or company (Ex: Unlawful termination from employment and etc)
Legal Notice for Cheque Bounce/ cheque dishonor
Notice for Breach of contract or Agreement.
Sexual harassment, cruelty, and other violation of labor laws.
Consumer Dispute Notices.
Legal Notice for Payment disputes
Legal notice to wife for cruelty
or other cases.
Where do we specialize?
Drafting of a legal notice may include several intricacies that you or an inexperienced lawyer may not take into consideration. Our team of carefully curated experienced lawyers has been professionally trained to analyze and understand your case and then draft your notice as per your instructions and available remedy.
Trusted by over 500+ clients and counting…
Or, connect to us via WhatsApp Live Chat. Our customer representative will shortly be with you…
Other Contact options:
Call: +91 7047683995
Email: Help@vakil.tech